Shipping to Europe.
Packs are shipped with DPD courier (or DHL only for some countries)
1 package, maximum weight 31.5 kg, maximum lenght 175 cm.
*FREE SHIPPING with DPD for orders over 300€ to:  France, Germany, Austria, Belgium, Luxembourg, Holland e Denmark.
DPD tracking (Bartolini) : http://as777.brt.it/vas/sped_numspe_par.htm
Prices include 22% of Italian vat: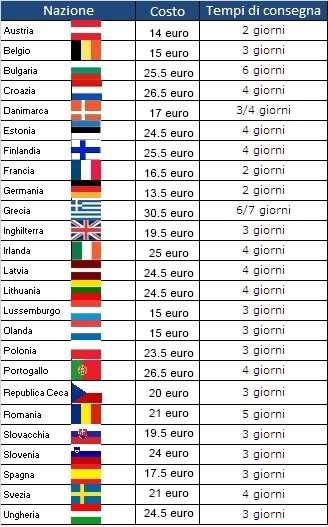 Worldwide shipping.
Sorry but we ship only to nations within Europe with DPD or DHL
Shipping to Italy.
Packages are generally dispatched within 1 day after receipt of payment and are shipped by Bartolini .
You will receive an email from the courier with the tracking number and a link through which you can check the shipping status.
You'll also receive a text message on the phone to warn you before delivery.


Shipping charges include the cost of packaging and postage. 

Once your order is shipped it usually takes 24h to be delivered (36/48h to Sicily, Sardinia, Basilicata, Calabria and remote areas). 
Delivery time may vary for the availability of requested items.
Deliveries are made by courier Bartolini from Monday to Friday , Saturday and Sunday and bank holidays excluded.
We recommend that you specify an address where the courier can find the recipient during the day.
The cost of shipping depends on the size , weight and number of packages shipped .
For transport in Italy is estimated at a cost of standard shipping for packages not bulky under 5 kg of weight equal to € 10.37 including VAT (11 € for Sicily, Sardinia and Calabria) while for shipping with payment on delivery you have to add 1% of the total amount of the order with a minimum of 5 €.
FREE SHIPPING for orders over 300 € all over Italy (including islands)

Shipments on the islands and places disadvantaged or out of the standard of the surcharges will be calculated and shown from time to time via email and / or phone. The customer may then decide whether to cancel the order . It will then be our care to warn you if your order exceeds the standards and then inform you , the shipping date.

ON RECEIPT OF GOODS:
Upon receipt of the goods the customer is required to check:
- That the number of packages delivered is as indicated in the transport document
- That the packaging is intact and not altered or damaged

In case of tampering and / or breaks the customer will immediately challenge the shipment
.W